introducing MORE
strengthening the evaluation capacity of nonprofits in Montgomery County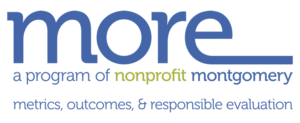 Nonprofits are often asked, "how do you know your work makes a difference?" As staff, we may see the difference in our clients over time, and may know intuitively that our work is impactful. But it can be challenging to quantify the difference and answer the question: "what are your outcomes?"
Nonprofit Montgomery's MORE (Metrics, Outcomes and Responsible Evaluation) Training will help nonprofits learn about evaluation, and offer a deep dive into measuring impact and gauging program effectiveness.
MORE will help organizations develop strategic approaches to data collection and analysis, and guide them in developing metrics to analyze program outcomes to improve service delivery. Participants will develop their skills and make concrete plans to measure the results of their work.
MORE will strengthen your organization's capacity to measure results by:
Understanding key evaluation terminology.
Assessing your organization's capacity for evaluation
Exploring the six steps of evaluation.
Identifying external data and resources to strengthen evaluation efforts.
Engaging in meaningful dialogue about evaluation with key county funders and government leaders.
MORE consists of one and a half days of training, followed by a half-day training and an individual consultation with an evaluation consultant. Each organizational team collaborates on an individualized evaluation plan or resource during the workshop and leaves with clear next steps. Following the training an individual consultation with an evaluation consultant allows the team to get feedback on their work. Participating organizations receive a workbook and resource guide including copies of the presentation, worksheets, handouts and a listing of relevant resources and articles.
Participating organizations are asked to commit to:
Attend as a team of up to four, including the executive director or senior staff, program director, staff member responsible for data or development director, or board member.
Commit to participating for the full 1.5 day intensive and the booster session.
Complete a pre-assessment.
Work on an evaluation plan, logic model or other evaluation resource in between the trainings.
who should participate

Nonprofit organizations located in or serving the residents of Montgomery County. MORE is a hands-on approach for nonprofits who are new to evaluation or who need to improve their evaluation practices. The program provides a framework for understanding evaluation and includes tools, individual consultation and time to plan as a team.
Cost: For Nonprofit Montgomery members the cost is $25 nonrefundable registration fee per organization. For nonmembers the cost per organization is $500. The program is only open to nonprofits providing services in Montgomery County.
The next session of MORE is on Thursday, March 15 and Friday, March 16, 2018. 
For more information, please contact Lesley MacDonald.
MORE is supported by Montgomery County Government, the Healthcare Initiative Foundation, and The Universities at Shady Grove.
we work to…
strengthen our sector through leadership development, organizational
capacity building, and peer-to-peer networking and support; increase the
visibility of nonprofits and the work they do; and influence progress
through advocacy and strategic partnerships.
What participants say about the impact of MORE:
MORE was a great professional development opportunity and it gave an opening to discussing evaluation at both staff and board level.

MORE was interactive and engaging. Highly recommended!
MORE reinforced the importance of evaluation to ensure effective programming and to build
credibility with internal and external stakeholders.
It increased my motivation and confidence about improving our services and for getting the word out about what we do.
I was able to reinforce and update understanding of evaluation principles.
I am empowered to not only achieve our outcomes but to better articulate outcomes and long-term objectives.