what we do
Nonprofit Montgomery trains nonprofit leaders and fosters peer networks.
Our leadership development programs include:
FIRM Financial Leadership Institute (visit the FIRM program page for more details)
Tables for Ten
MORE: Metrics, Outcomes and Responsible Evaluation Training (visit the MORE program page for more details)
Research presentations and book talks
Our members work together to influence policy and create strategic partnerships.
County-focused advocacy and government relations include:
Annual Directors Dialogue with nonprofit leaders and the Directors of Montgomery County Government Departments
Annual State and County Budget and Legislative Debrief with elected officials
Candidates forums and regular visits with elected officials
We bring people together to solve problems and produce extraordinary results.
Montgomery Moving Forward — an initiative launched in 2013 shortly after the publication of Beyond Charity: Nonprofit Business in Montgomery County — is practicing a new way of working together to marshal community resources to solve community problems.
Innovated under the auspices of Nonprofit Montgomery, Montgomery Moving Forward (MMF) is part of a national movement of leaders who are committed to strategic action in pursuit of innovative solutions to complex community problems. These problem-solving efforts follow a model known as Collective Impact.
MMF is led by a Leadership Group comprised of some of our county's most senior representatives from small and big businesses, philanthropy, small and big nonprofits, and local government, including major educational institutions. By bringing together leaders from across sectors with a shared vision, MMF is poised to produce real change.
MMF's first issue was Workforce Development, where our work continues. MMF's second issue is Early Care and Education.  Learn more on the MMF page.
We increase the visibility of the nonprofit sector through strategic communications.
Our targeted communications efforts include: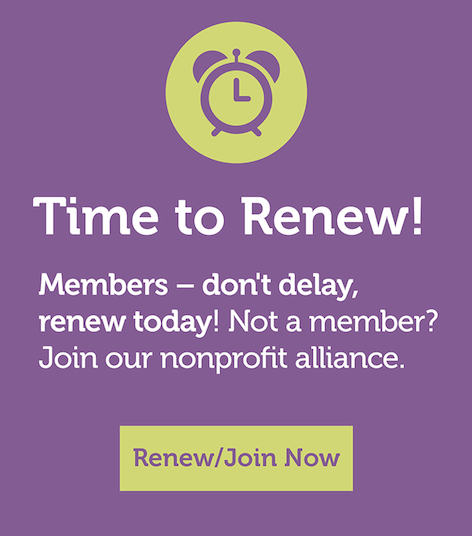 we work to…
strengthen our sector through leadership development, organizational
capacity building, and peer-to-peer networking and support; increase the
visibility of nonprofits and the work they do; and influence progress
through advocacy and strategic partnerships.
Sign Up to Receive our E-Newsletter:
NONPROFIT MATTERS
For a more detailed picture of Montgomery County's nonprofit sector and its economic and social impact, download our Beyond Charity report.