our members
Membership in Nonprofit Montgomery is open to nonprofits that serve or do business in Montgomery County, MD, and our alliance includes a wide variety of nonprofit organizations. We invite you to join us! Visit the membership page to learn more.
Click on a name to visit that organization's website.
Adventist Community Services of Greater Washington
African Diaspora United for Development
Alpha Omega International Dental Fraternity
The ALS Association – DC/MD/VA Chapter
Artivate (formerly Class Act Arts)
Arts and Humanities Council of Montgomery County
Arts for the Aging, Inc. (AFTA)
Association for Enterprise Growth
Baby's Bounty Montgomery County, Inc.
Building Educated Leaders for Life (BELL)
Catholic Charities of the Archdiocese of Washington
Center for Adoption Support and Education
Community Health and Empowerment through Education and Research (CHEER)
Community Ministries of Rockville
Conflict Resolution Center of Montgomery County
Corporate Volunteer Council of Montgomery County
Court Appointed Special Advocate (CASA), Montgomery County, MD, Inc.
Crittenton Services of Greater Washington
Crossroads Community Food Network
Don Bosco Cristo Rey High School and Corporate Work Study Program
Easter Seals Serving DC | MD | VA
Eastern Montgomery Emergency Assistance Network, Inc.
Equipment Connections for Children, Inc.
EveryMind (formerly the Mental Health Association of Montgomery County)
Fairytale Brides on a Shoestring Boutique, Inc.
Girls on the Run of Montgomery County, Maryland

Graceful Growing Together, Inc.
Greater DC Diaper Bank (formerly DC Diaper Bank)
Greater Washington Community Foundation-Montgomery County (formerly The Community Foundation, Montgomery County)
GROWS (Grass Roots Organization for the Well-being of Seniors)
Health and Environmental Funders Network
Healthcare Initiative Foundation
Hispanic Business Foundation of Maryland
Holy Cross Health – Community Health Division
Housing Initiative Partnership, Inc.
Hope Connections for Cancer Support
Living Independently for Everyone, Inc.
JBAN Education Outreach Program, Inc.
Jewish Coalition Against Domestic Abuse
Jewish Community Center of Greater Washington
Jewish Community Relations Council of Greater Washington
Jewish Council for the Aging of Greater Washington, Inc.
Jewish Foundation for Group Homes
Jim and Carol Trawick Foundation
Jubilee Association of Maryland Inc.
Kids In Need Distributors, Inc.
KindWorks (formerly MoverMoms)
Korean Community Service Center of Greater Washington, Inc.
Latin American Youth Center / Maryland Multicultural Youth Centers
Latino Childcare Association of Maryland, Inc.
Latino Economic Development Center-LEDC
Literacy Council of Montgomery County
Living Independently for Everyone, Inc.
Lutheran Social Services of the National Capital Area
Madison House Autism Foundation, Inc.
MCPAW (Montgomery County Partners for Animal Well-Being)
Michael and Maurita Patcha Foundation
Mid-Atlantic Equity Consortium, Inc.
Montgomery Coalition for Adult English Literacy
Montgomery County Coalition for the Homeless
Montgomery County Collaboration Council for Children, Youth and Families, Inc.
Montgomery County Federation of Families for Children's Mental Health
Montgomery County Food Council
Montgomery County, Maryland Delta Alumnae Foundation, Inc.
Montgomery History (formerly Montgomery County Historical Society)
Montgomery Housing Partnership

National Alliance on Mental Illness Montgomery County (NAMI MC)
National Postdoctoral Association
Organization for Advancement of and Services to Individuals with Special Needs
On Our Own of Montgomery County, Inc.
Peer Wellness and Recovery Services, Inc.
Primary Care Coalition of Montgomery County, MD
Rebuilding Together Montgomery County
Regional Primary Care Coalition
Rising Sun Cultural and Educational Programs, Inc.
Seabury Resources for Aging/Springvale Terrace
Shepherds Of Zion Ministries International Church
Student Global Ambassador Program (SGAP Leaders)
Tech Impact (formerly 501cTECH)
The Armand Center for Conflict Resolution
The George B. Thomas Sr. Learning Academy, Inc.
The Rockville Bach Academy, Inc.
The Tree House Child Advocacy Center of Montgomery County, MD
UCF Youth Development Organization
Urban Ecosystem Restorations, Inc.
Vikara Village (formerly The Village Youth & Family Center)
Voices for Children Montgomery
Wonders Early Learning + Extended Day
Most nonprofits offer a wide range of programs and services, and their missions often encompass multiple categories. Here, our member nonprofits are categorized by primary focus areas in order to provide a sense of the depth and breadth of their impact in Montgomery County.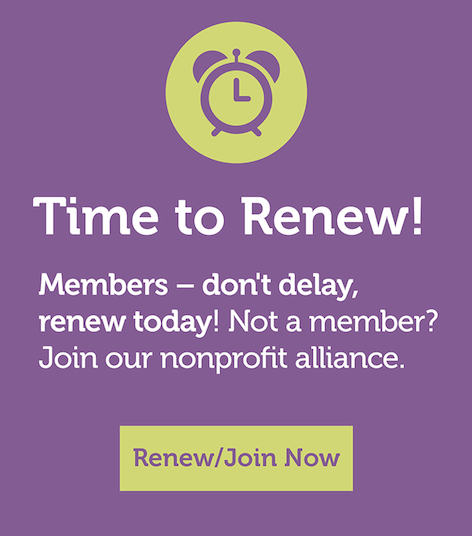 membership dues
Annual dues are based on each member nonprofit's  Montgomery County annual budget.
Budget under $100,000 – $75
$100,000 to $500,000 – $150
$500,000 to $1 million – $225
$1 million to $3 million – $315
$3 million to $7 million – $525
$7 million to $15 million – $1,050
Over $15 million – $1,575
why join?
Priority access to our programs in leadership development, organizational capacity building and advocacy.

Connect with peer leaders, elected officials, corporate and philanthropic partners. We help you create strong partnerships!

Work with peer organizations to find solutions to issues that impact the quality of life in Montgomery County.

Enhance your organization's effectiveness and advance your career.

Improve the lives of those we serve.
For a more detailed picture of Montgomery County's nonprofit sector and its economic and social impact, download our Beyond Charity report.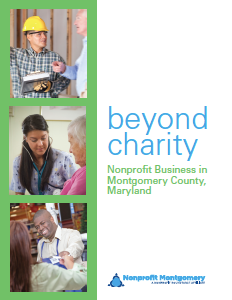 Sign Up to Receive our E-Newsletter:
NONPROFIT MATTERS