nonprofit montgomery:
election education project 2018

Nonprofit Montgomery strengthens nonprofits in Montgomery County, advocates for the sector, and catalyzes action to solve the community's toughest challenges. Our vision is a robust and enduring nonprofit sector in Montgomery County that sustains a thriving community for all.
A key objective for Nonprofit Montgomery is to share the priorities of the nonprofit sector. In order to begin to foster a collaborative relationship with you, we'd like to offer you the opportunity to meet in a small group setting with nonprofit leaders to gain a better understanding of the needs of the nonprofit sector.
Nonprofit Montgomery has committed to empower nonprofits to fully participate in the election process within permissible boundaries by:
Sharing resources about permissible election advocacy with our members
Participating in the AIGA Design for Democracy to encourage voting in Montgomery County
Convening small group informational meetings with County Council candidates, and
Hosting a County Executive Forum in late spring 2018
Nonprofit Montgomery members are invited to participate in panels of nonprofit leaders to meet with candidates for Montgomery County Council. On selected days, 3-4 nonprofit leaders will meet as a group with 3-5 individual candidates.
Available Dates:
March 21: 6-8pm
March 22: 9:30am-12pm  OR 1:30-4pm
March 27: 9:30am-12pm OR 1:30-4pm
March 28: 9:30am-12pm OR 1:30-4pm
April 3: 9:30am-12pm  OR 1:30-4pm
April 4: 6-8pm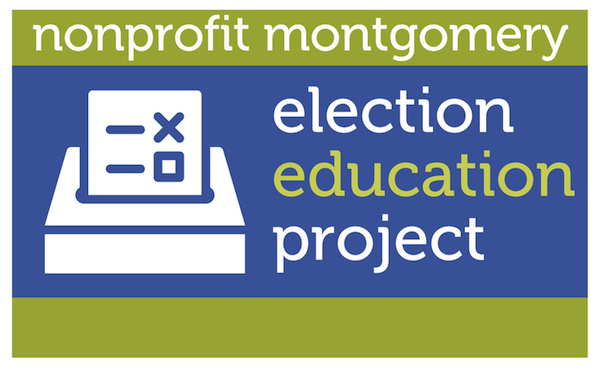 Join us for a Lunch & Learn with Brenda Barron, formerly the Director of Programs for Nonprofit Vote. Brenda will present guidance on how nonprofits can participate in the electoral process without jeopardizing their tax-exempt status. You'll learn about permissible advocacy, nonpartisan voter registration activities, and voter education.
Tuesday, March 20, 2018, noon – 1:30pm
The Nonprofit Village – 12320 Parklawn Drive, Rockville
RSVP NOW
Are you a County Council candidate? If so contact us if you would like to sign up for a small group session.